This shop has been compensated by Collective Bias, Inc. and its advertiser. All opinions are mine alone. #BowlTimeSnacks #CollectiveBias
My husband loves football. He has juggled several fantasy teams over the last few years, and loves the big game every February (it is in February, right?). Yes, I had to check. Because I'm not a big football fan. I do love the new commercials, though. And the food. I love food. And opportunities to try new recipes. Today I'm sharing eight recipes with you, perfect for topping RITZ® Crackers. Yup, eight. Four savory recipes, and four sweet recipes. And we had a little tasting party to decide the winner. Which was hard. Because they are all seriously delicious, y'all. I know a recipe has captured my tastebuds when the leftovers are calling to me from the fridge. And these are. All of them. So let me share… feel free to thank me in the comments!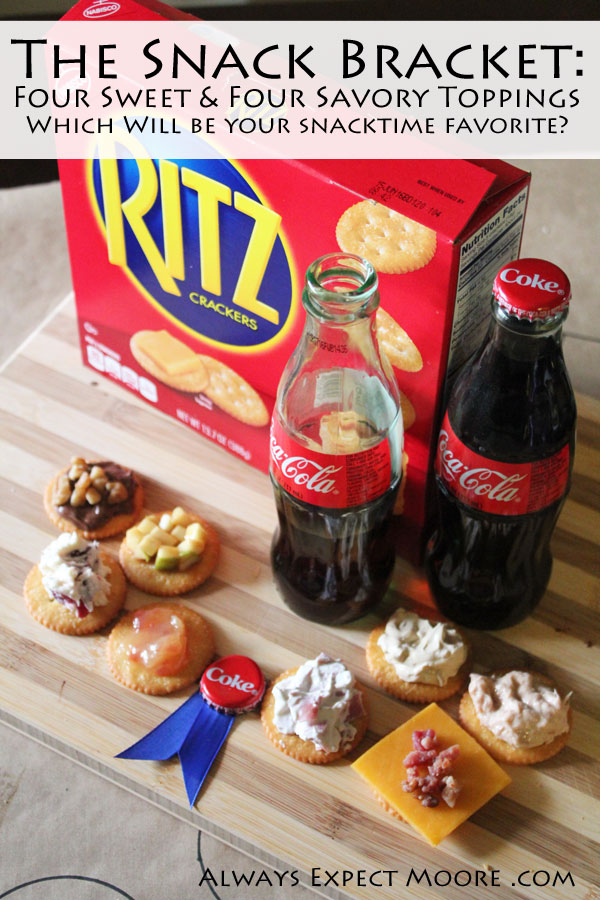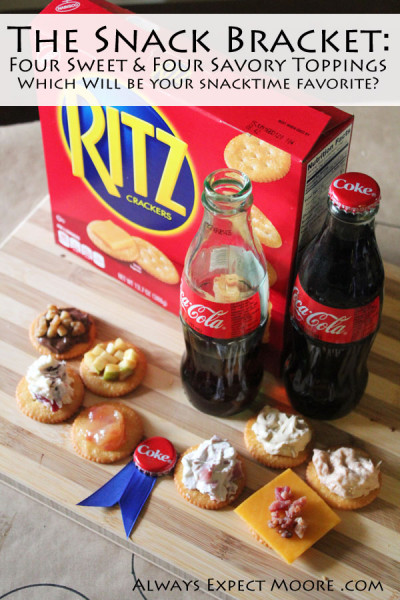 The toppings are divided into two divisions. The Sweet division and the Savory Division. On the sweet side, we have Cranberry Cream Cheese, Cherry Lemon, Caramel Apple, and Chocolate Nut. Yum-oh! Representing savory, we have Cheddar & Bacon, Tuna, Beef & Garlic, and French Onion. Oh, yeah! And they're all easy to put together. Here are the recipes – feel free to double (triple… quadruple…) for larger crowds and serious snackers.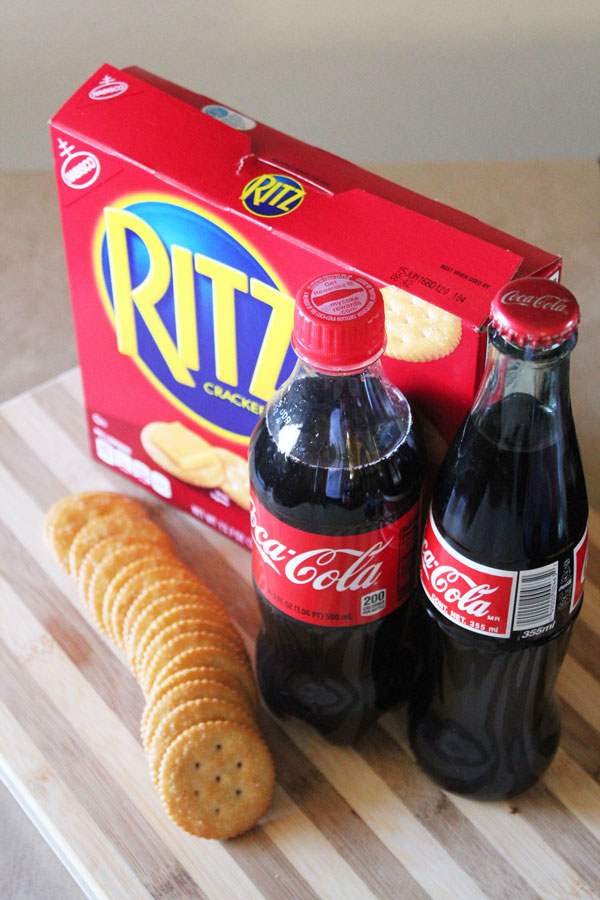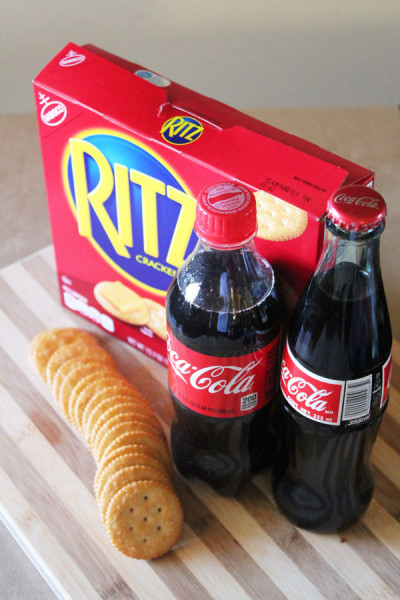 Cranberry Cream Cheese Topping
4 oz Cream Cheese
1/4 cup Dried Cranberries
2 tablespoons Honey
With a fork, combine cream cheese, cranberries, and honey until thoroughly mix. Spread 1-2 teaspoons full onto each RITZ® Cracker.
Cherry Lemon Topping
4 oz Lemon Curd
2 oz Marachino Cherries (8-10), chopped
Mix lemon curd and chopped cherries until well mixed. Spread 1 teaspoon full onto each RITZ® Cracker.
Caramel Apple Topping
10 soft caramels
1/2 Granny Smith Apple, chopped
Melt caramels in microwave at 10 second intervals until melted, stirring between each interval. Mix in chopped apples. Put 1 tsp topping on each RITZ® Cracker.
Chocolate Nut Topping
3 tbsps Walnuts
4 tbsps Chocolate-Hazelnut spread
Spread approx 1 tsp chocolate hazelnut spread onto each RITZ® Cracker. Sprinkle with Walnuts.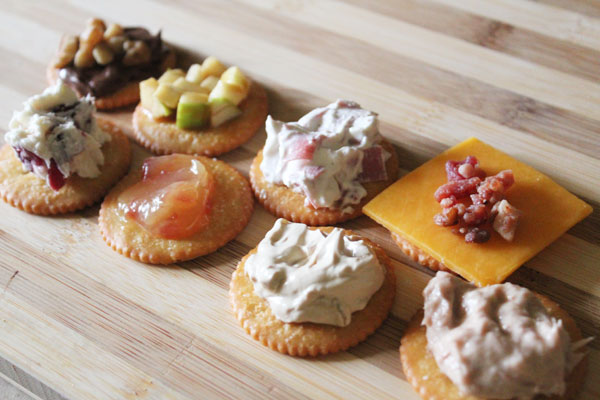 That's the sweet lineup. You might think there are some crazy combinations in there, and you would be right – crazy good! You're going to have such a hard time deciding which RITZ® Cracker topping wins the sweet division. Ready for the savory toppings? Here we go!
Cheddar & Bacon Cracker Topping
2 oz. Medium Cheddar Cheese
3 tbsp Crumbled Bacon
Place 1 square of cheddar cheese onto each RITZ® Cracker. Top with bacon crumbles.
Tuna Cracker Topping
4 oz Tuna (1 can, packed in water), well drained
2 tbsp Mayonaise
1 tsp seasoned salt
2 tsp pickle juice (liquid from pickle jar)
Make sure tuna fish is well drained. Mix with other ingredients until combined. Put 1 tsp on each RITZ® Cracker.
Beef & Garlic Cracker Topping
8 oz sour cream
1/2 tsp black pepper
2 tsp granulated garlic
4 oz lunchmeat (beef), chopped
Mix together ingredients until well combined. Best if made a day ahead, and refrigerated overnight. Put 1 teaspoon of mix onto each RITZ® Cracker.
French Onion Cracker Topping
8 oz Sour Cream
1/2 packet French Onion soup mix
Mix together Sour Cream and French Onion soup mix until well combined. Best if made a day ahead, and refrigerated overnight. Put 1 teaspoon of mix onto each RITZ® Crackers.
While you're putting together your shopping list, be sure to add Coca-Cola. As you try out all these snacks, you're going to need a palette cleanser. And what better than some ice cold Coca-Colas, right?
I found my RITZ® Crackers and Coca-Cola at my local Vons.

I set up a snack bracket on kraft paper so that we could keep track of our winners. The Sweet Division is lined up on one side, and the Savory Division is ready to go on the other.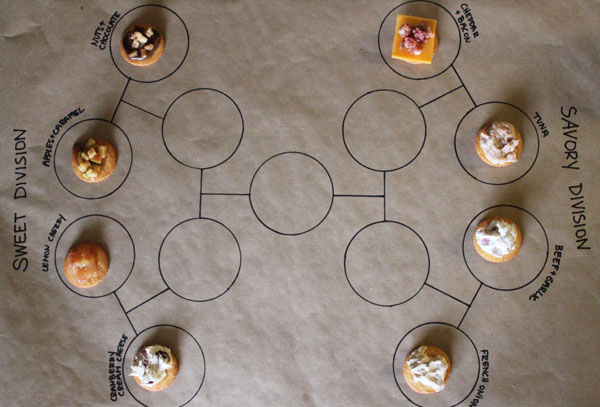 We started snacking, deciding winners in each match-up.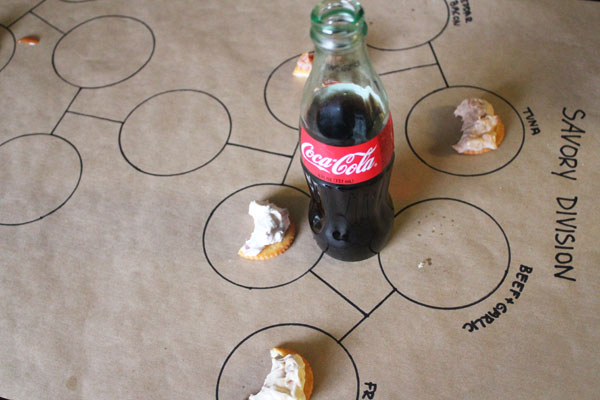 When we got to the final showdown of the RITZ® Cracker toppings, it was underdog Cherry Lemon against family favorite Beef & Garlic. How do you choose?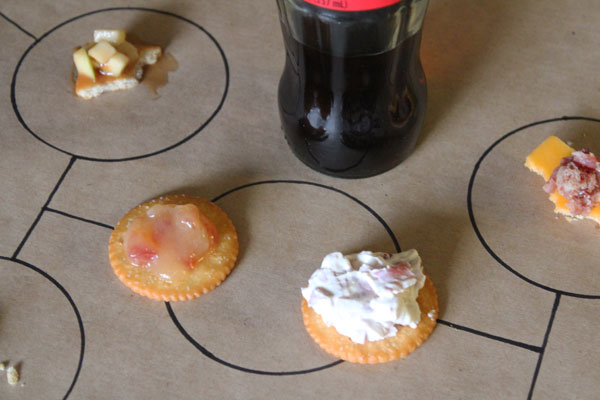 I'm not telling you which cracker topping got to bring home the Coca-Cola bottle cap prize, you'll have to try your own snack bracket challenge this halftime. Let your friends and family decide which snack stands above all the others.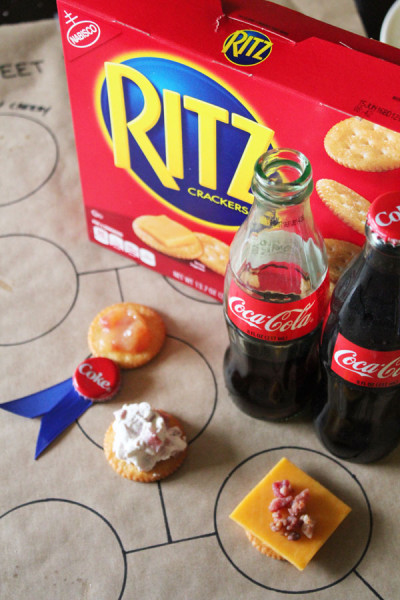 Each of these RITZ® Cracker toppings can be whipped up in only a few minutes, so you can easily prepare them the day before the game yourself, or you can challenge your friends to bring their recipes (or try one of these) for your own halftime snack challenge.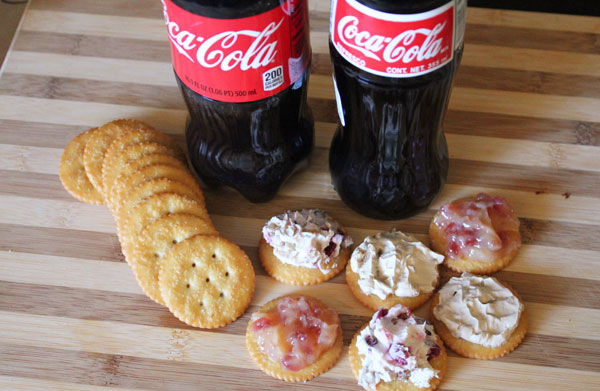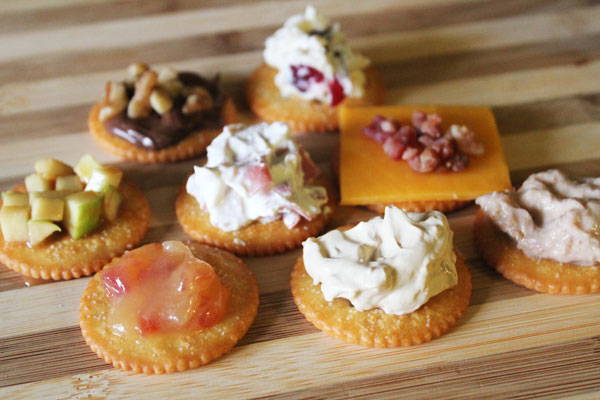 Be sure to check out these other amazing RITZ Cracker recipes, and while you're at it, make sure you check out these awesome recipes too.

#BowlTimeSnacks #ad @ritzcrackers @cocacola