Recently, I had the chance to play with one of Art Gallery Fabrics' new lines, Selva. This fun, jungle inspired print was perfect for a quilt that I'd been bouncing around in my mind. Ever since I stitched up the "Square Dance" quilt for the Leisure Arts "Modern Patchwork" book, I'd been wanting to make a new version of the quilt.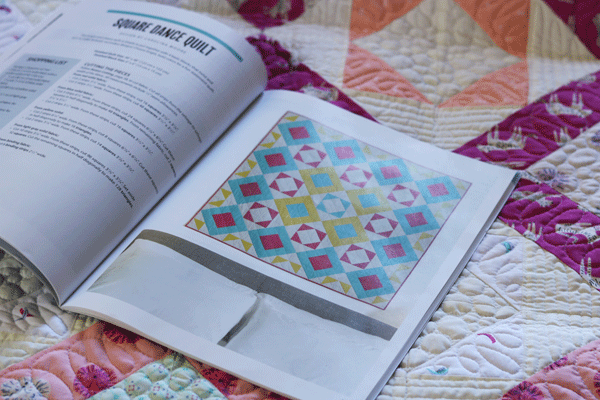 This post contains affiliate links. You won't be charged any extra, but I'll make a small commission when you click these links.
If you want to make this quilt, you can get your copy of Modern Patchwork from Leisure Arts here. or you can find it on Amazon.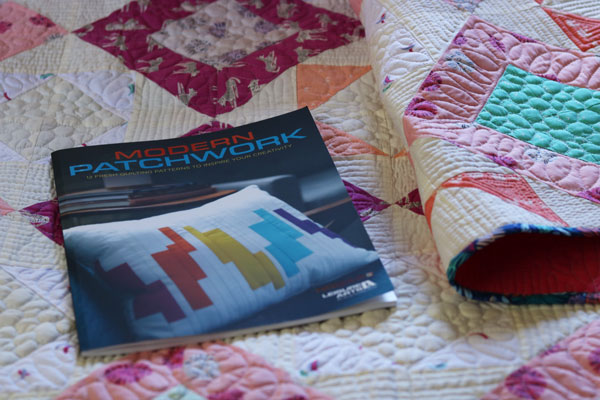 The original version of the quilt is stitched up in Art Gallery Fabrics solids, and quilted using straight-line quilting. And while I do love it, I wondered what it might look like using prints instead. So, when I got my hands on Selva, that is exactly what I did!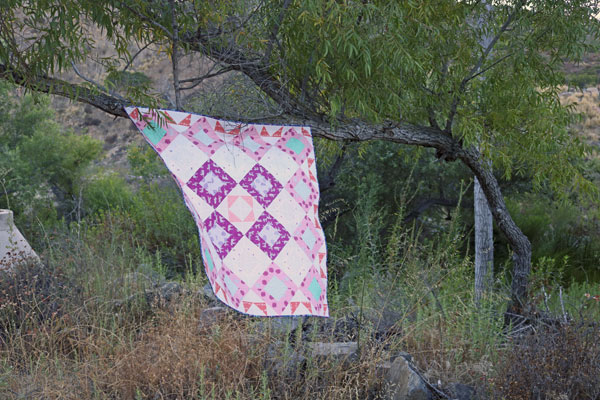 And then of course I had to pick an exotic spot to photograph it for the lookbook. I went with the Old Mission Dam in the Mission Trails park here in San Diego. It is just a short drive away, and the scenery is just so much fun!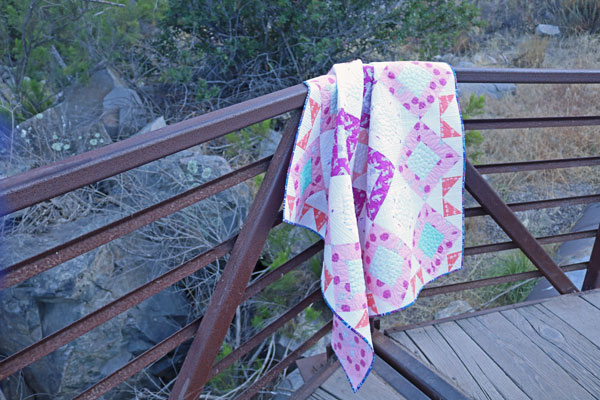 Of course I brought with me all the tools I thought I'd need to style the quilt in the photos – pins, tape, string – but in all my planning I forgot about proper footwear! So, I was traipsing through the trails wearing my flip-flops.
Clearly, living in Southern California has absolutely gone to my head!
It was especially precarious as I was positioning the quilt for this shot. That water on the left is not my idea of a relaxing afternoon bath!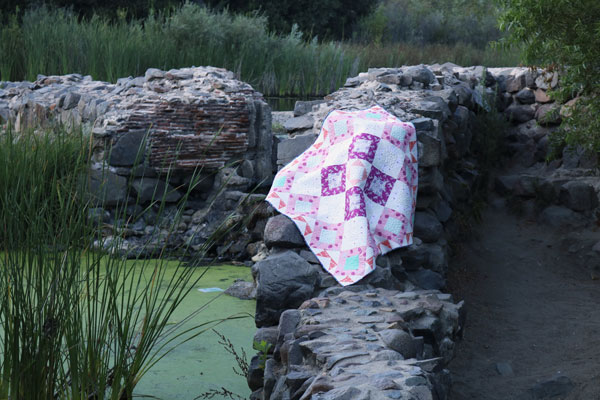 Of course I had to take a photo of the back of the quilt. I love a good pieced quilt back, when I have the time. And those AGF solids are so great for showing off the quilting!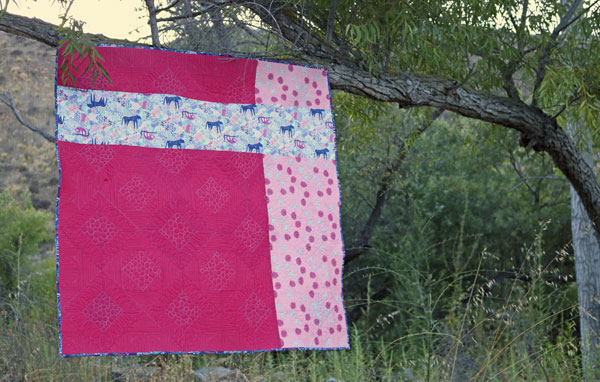 I really had fun with the quilting on this piece. While straight-line walking foot quilting is fabulous, I love an excuse to put on the free motion foot and quilt! And none of these designs are super complex! Just lines, loops, and pebbles.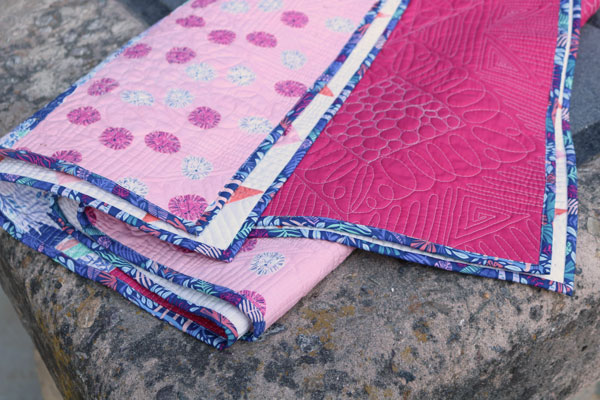 While I rarely make the same quilt more than once, I really loved taking a quilt that I had designed, and re-making it in a completely different way! It is so fun to see what a difference fabric choices make when putting together a quilt!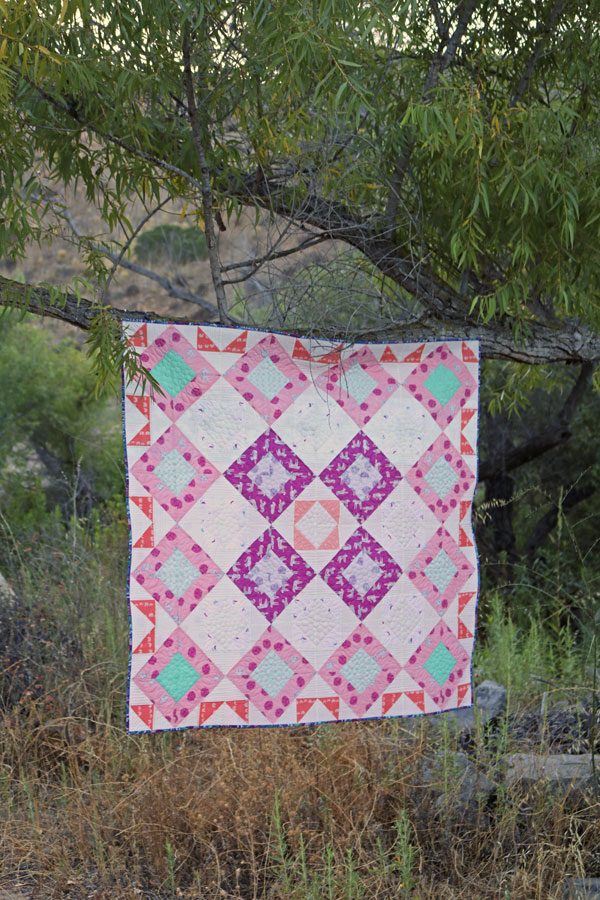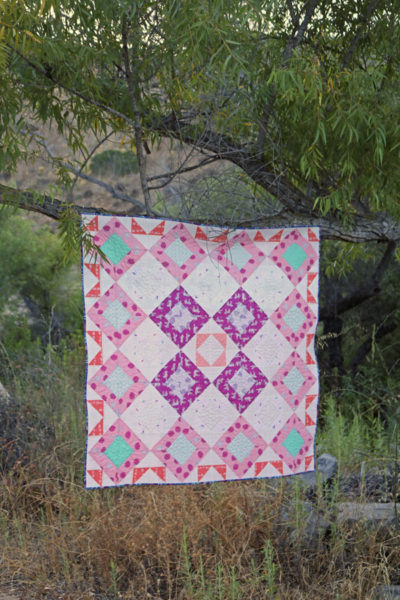 If you want to grab the Modern Patchwork book, you can get it from Leisure Arts here, or you can find it on Amazon.