Ready for a fun block? This Stack of Books Quilt Block is perfect for a back to school quilt, for a reading quilt, a graduation quilt … there are so many fun ways to use a Stack of Books Quilt Block! Today I'm including it as part of the Quilt Block Mania series. Several dozen other pattern designers and I are all sharing free 12-inch quilt blocks with a "Back to School" theme. And while this year's "back to school" looks a lot different than those of the past, these blocks can still be put together to make a great teacher appreciation quilt, administrator appreciation quilt, or auction quilt to support your PTA – because even though most schools here in the USA have gone virtual, the teachers, staff, and most PTAs are still working hard to support our kids!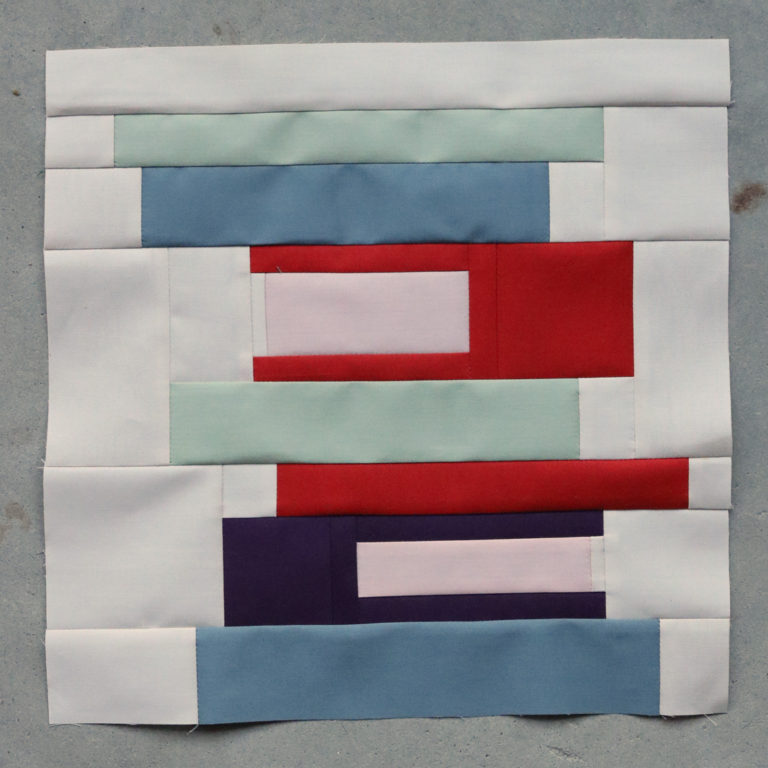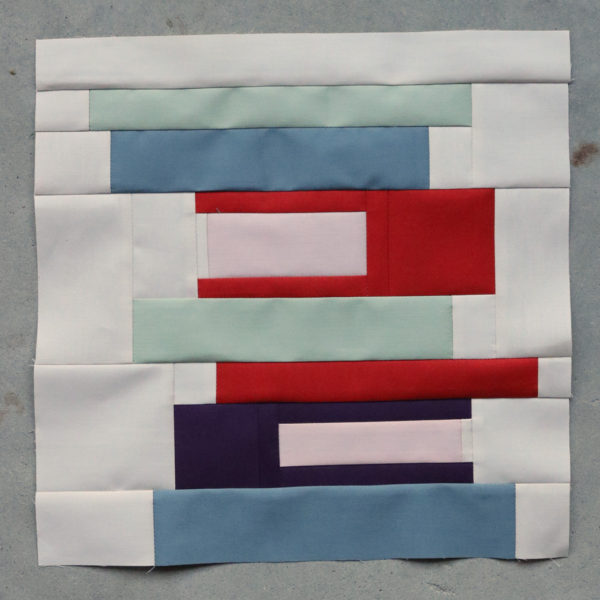 This post contains affiliate links that provide a commission for qualified purchases at no additional cost to you.
Your Free Block Pattern
To get your free quilt block, sign up below. You'll be sent a download link via email. If you're not already on my mailing list, you'll be added. And you can unsubscribe anytime. Also, when you sign up to get this block, I'll give you a 50% off code for my brand new pattern! I've created TEN projects that you can make using 12″ quilt blocks (like this one)! If you love the different quilt blocks out there, but want to make a fun project highlighting just one block, then this is the perfect pattern for you! From a tote to a box to a cowl and more, I've got ten different projects you can make to feature your favorite quilt block (or to turn orphan blocks into fun gifts!)
Quilting Your Block
I have turned my block into a table topper, using one of the simple patterns in the Ten 12″ Quilt Block Projects pattern, and I've started quilting it with some free motion quilting.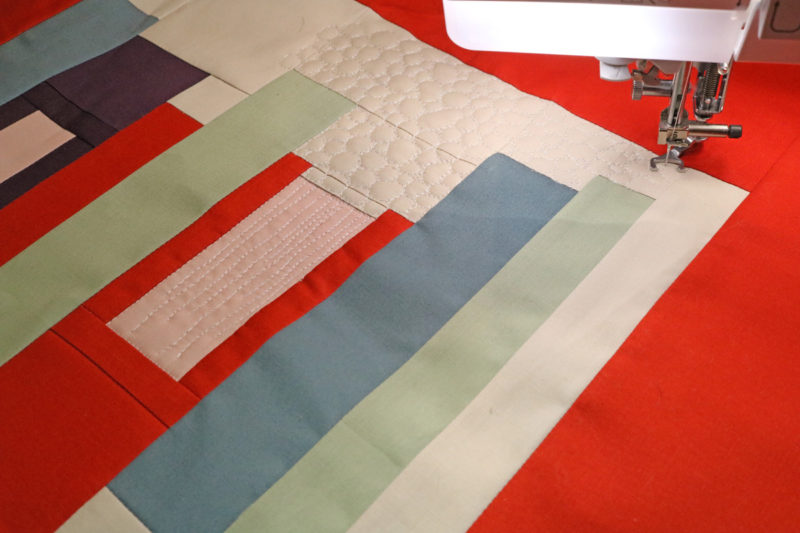 If you've always wanted to try Free Motion Quilting, then you should check out this fun "What Quilting Motif are You?" quiz! If you enter your email at the end, you'll get a video that shows you how to quilt that design! Super cool, right?
Precision Piecing Tips
You may have noticed some small pieces in this quilt block. If you want to know how I got my precision piecing done on this Stacked Books Quilt Block, I'll tell you the answer: Spray Starch! In this video I show you how easy it is to starch fabrics, and I answer the most asked spray starching questions…
More School Themed Quilt Blocks
Check out all these other fabulous designers who are also offering school-themed quilt blocks:
Crayons by Slice of Pi Quilts
Lockers by Powered by Quilting
Math Problem by Pretty Piney
Chalk Board by Inquiring Quilter
Stack of Books by Carolina Moore
Pointy Pencil Block by Sew Brainy
Geometry by Duck Creek Mountain Quilting
Pencils by Quilting Room with Mel
School Bus by Orange Blossom Quilt
Book with Animal by Seams to be Sew
Stack of Textbooks by Quilted Diary
Shades of the Sun by Charisma Horton
Basketball by Devoted Quilter
Apples by Perkins Dry Goods
Box of Crayons by ScrapDash
Apple with leaf by Blockofthemodotcom
Crayons by Off the Wall Quilt
School Time Schoolhouse by Quilt Moments
School House by Utah Quilt Appraiser
Pencil by True Blue Quilts
Owl by The Whimsical Workshop
Calculator by Quilt Fabrication
Crayons by Linda B Creative
Applique Computer by DooHikey Designs
Modern Apple by Cotton Street Commons
Glue by Quilting Mod
School Girl's Puzzle by Sew on the Go
Snack by Quiltfox Design
Backpack by Oh Kaye Quilting
Math Signs by Patti's Patchwork
Bookworm by Appliques Quilts and More
Backpack by Tacy Gray
Schoolhouse by From my Carolina Home
Girl's Favorite by Blue Bear Quilts
Origami Paper Plane by Amarar Creacions
Show up and Shine! by SewJoy Creations
School House with Children by Aunte Ms Quilts