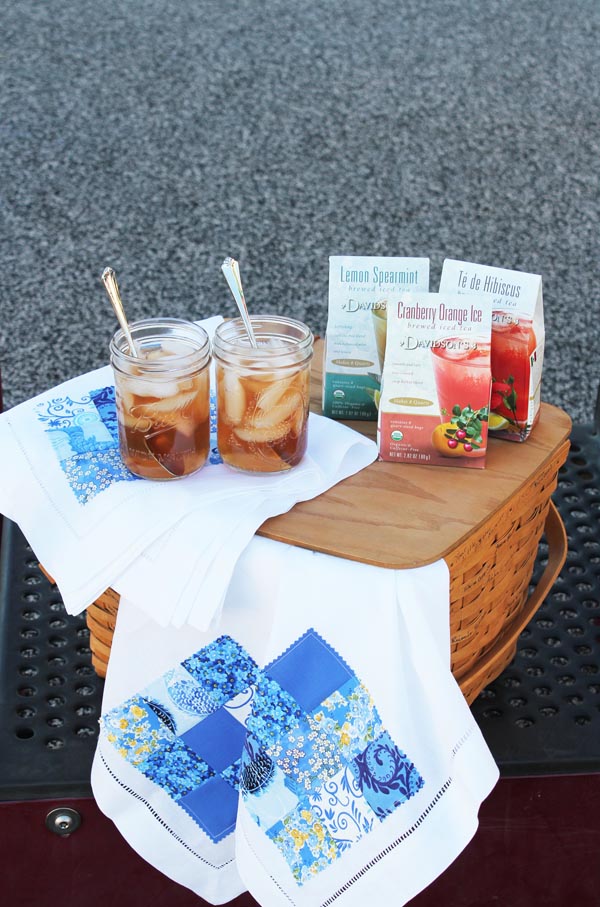 Recently, I was invited by Davidson's Organics and Missouri Star Quilt Company to create a picnic. I couldn't refuse. I've become something of a homebody, and anything to get me out of the house is a good thing! Plus, my son loves picnics. I kept this picnic simple, easy, and most of all, fun. They sent me sweet tea and fat-eighths of fabric to play with, in exchange for sharing my experience with all of you.
I packed up a picnic basket so that my son and I could spend the afternoon at the park.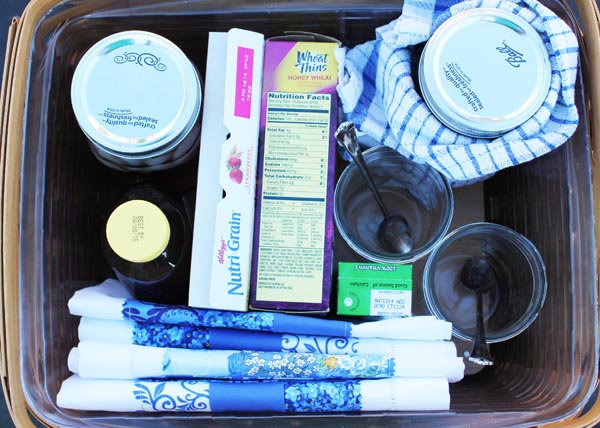 I kept it simple. Mason jars with ice tea spoons, some snacks, honey for sweetening up my tea, my nine-patch napkins (more on those in a bit), and a juice box… because most 5 year olds aren't big tea drinkers. Oh… and those big mason jars? Those are my secret weapon for packing an easy picnic.
One large mason jar is filled with ice. The other is filled with hot water and tea. The tea takes 5-7 minutes to brew. Which is about how long it takes to walk to the park from my house. So, while the water is boiling, I pack up the rest of the basket. Once the water is hot, I pour it into the mason jar, add my tea bags, pop on the lid, wrap a towel around the jar, and off we head to the park!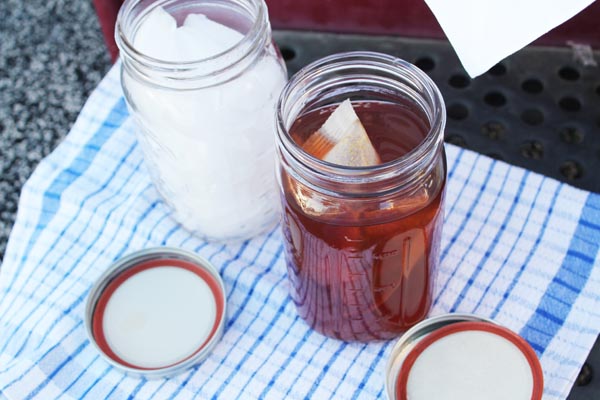 By the time we get there, my tea is brewed, and I can pour the ice and tea into the smaller mason jars for drinking! Super easy. And while I sip my tea, my kiddo can do lots of this: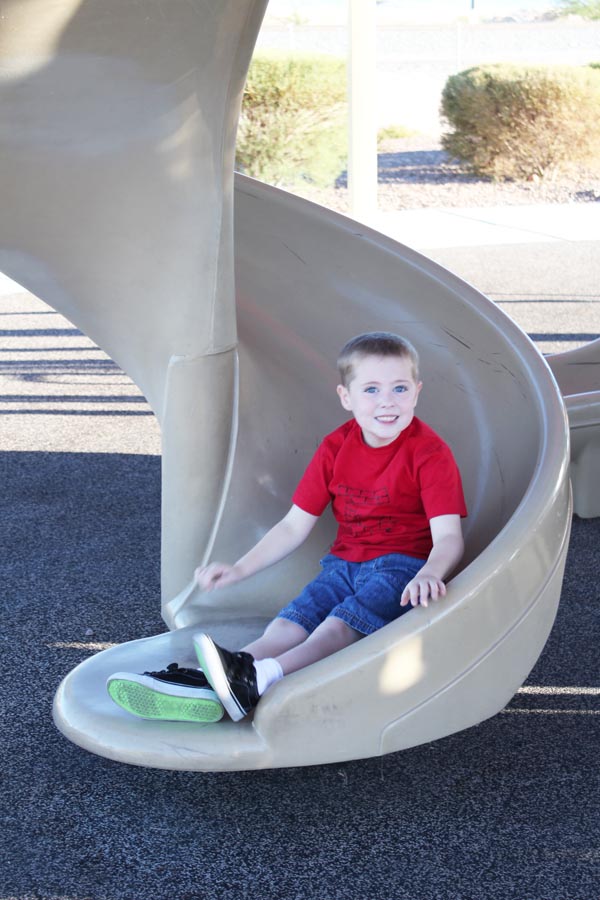 This made for a perfect fall afternoon with my kiddo. He's growing up so fast!
With the fat eighths of fabric sent to me as part of my picnic package, I whipped up some nine-patch napkins. These are easy to make. Not quite as easy as the tea… but pretty simple.
I started with my fabric and 4 linen/cotton napkins.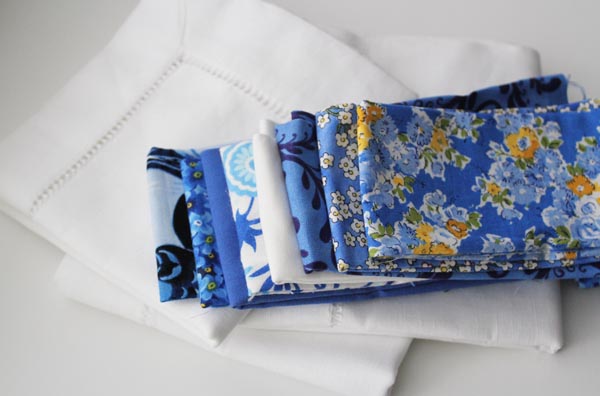 I cut the fabric into strips, 2.5″ wide, then stitched the strips into sets of 3. I pressed the seams so that half of the sets had the seams facing out, and half had the seams facing in.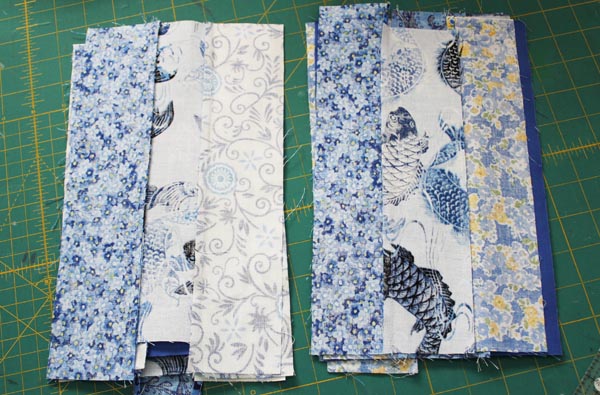 Then I sub-cut these into 2.5″ strips.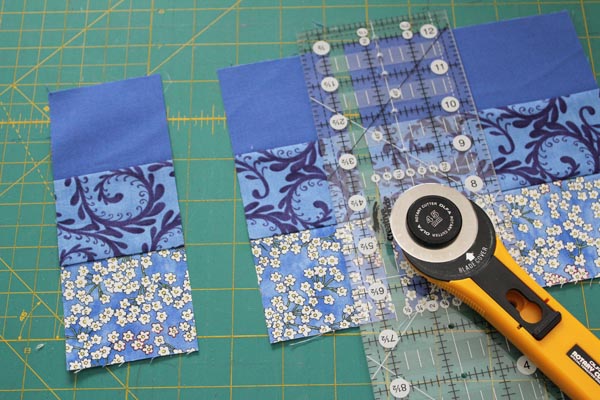 I piled up the sets. The row on the right has the seams pointing out, and the row on the left has the seams pointing in.
I paired up strip sets to make four pairs, each using one strip from the right row, and one from the left row. Because the seams were pressed in opposite directions, they nest into each other perfectly, making for perfect intersections where the seams all meet.
I then added another strip to one side of each pair, making nine-patches.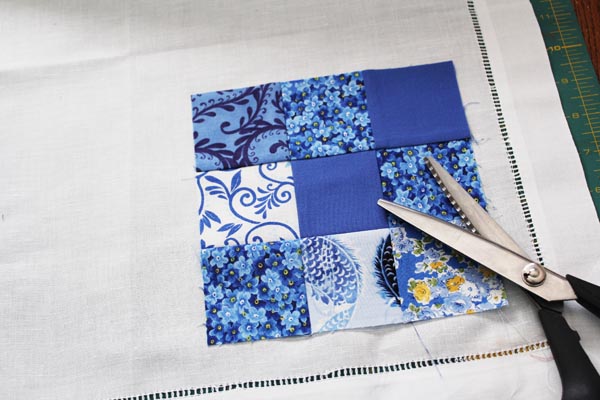 Instead of leaving the edges raw, or trying to turn them under, I used pinking shears to trim the edges. This will keep them from fraying, and I really like the look of a pinked edge.
I pinned each square to one corner of a napkin.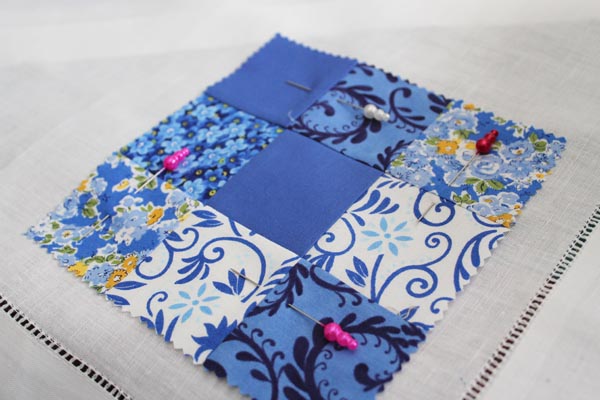 Then I stitched each square in place.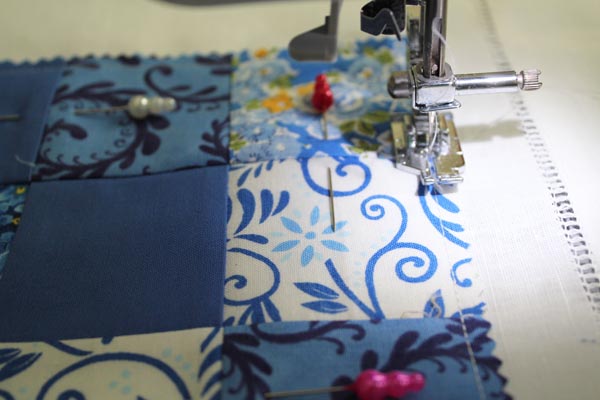 It was that easy! We've got this picnic basket as a wedding gift, and until now I've always used paper napkins. I'm so glad I now have a set of nice picnic napkins to go in my picnic basket!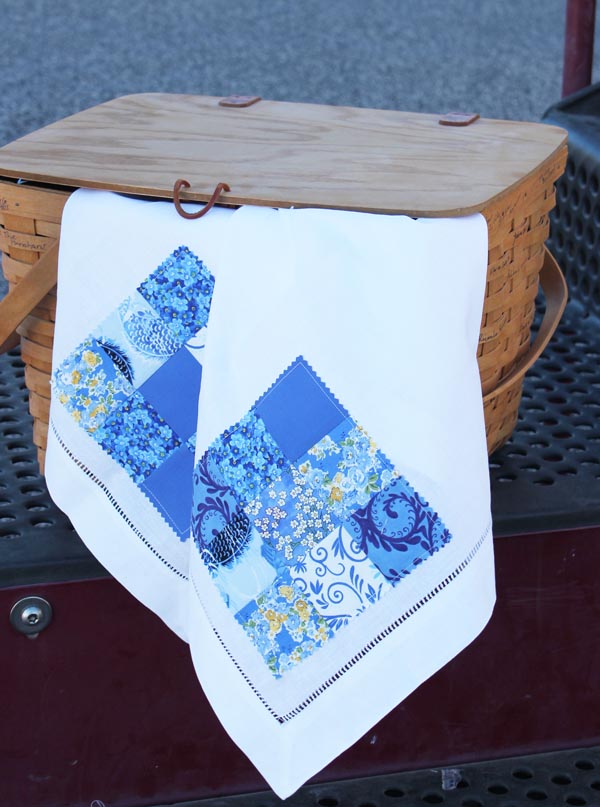 Thanks again to Davidson's Organics and Missouri Star Quilt Company for letting me join in on the fun!