This shop has been compensated by Collective Bias, Inc. and its advertiser. All opinions are mine alone. #CollectiveBias
We don't live close to family, so the past few Thanksgivings have been just me, my hubby, and our two picky eaters. We have no idea where they inherited their picky eating genes – we love food. And I love to cook. So we go all-out for Turkey Day. Big turkey in the oven, potatoes, several different veggies, lots of stuffing, rolls, salad, deviled eggs… did I mention we love food? After we've cut into the pie, it is time to put all the leftovers away. Because as much as we love to eat, we barely make a dent in the bird. And there are lots of leftover sides. These all become a great base for future fast and easy meals! I love coming up with creative ways to spread out the leftovers over the next few weeks – including making these Thanksgiving leftover pot pies.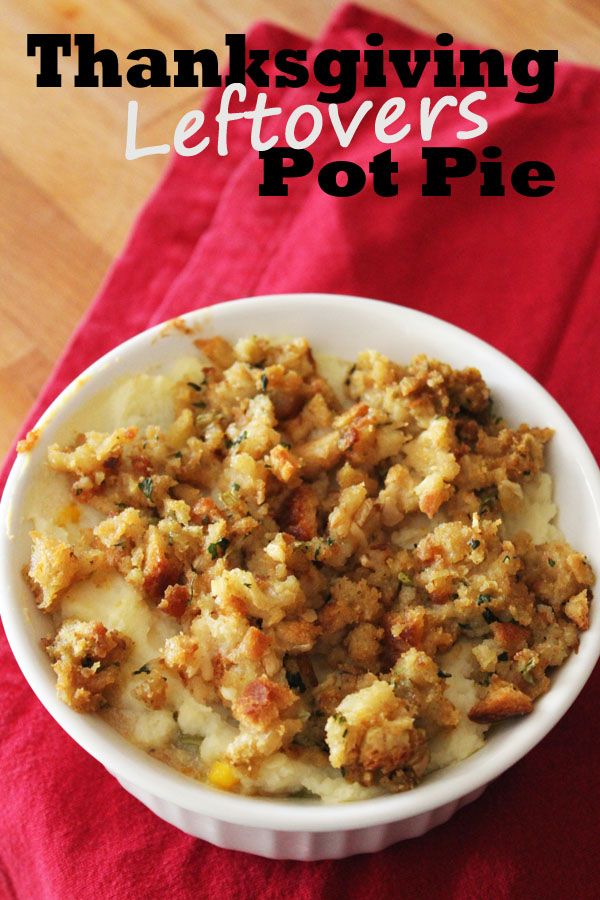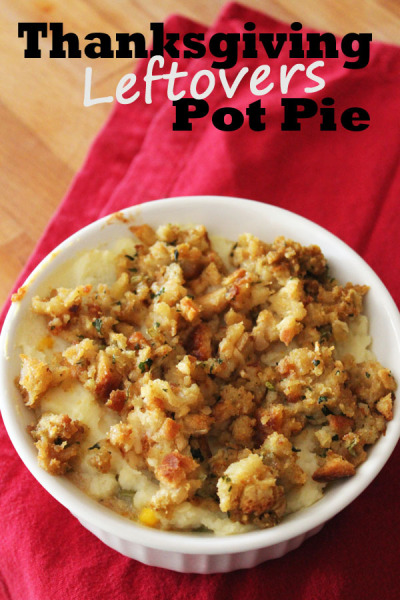 Making these pot pies is super simple. I've given exact measurements in the recipe below, but feel free to use a little more or a little less if that is what you have handy – we are using up our leftovers after all!
If your family loves stuffing as much as mine does, you might not have enough to whip up these pot pies… don't worry! I went to my local Walmart to pick up a box of turkey-flavored Stove Top Stuffing, which is perfect for topping off my pot pies with lots of yummy crunch! My little guy even helped out with the shopping!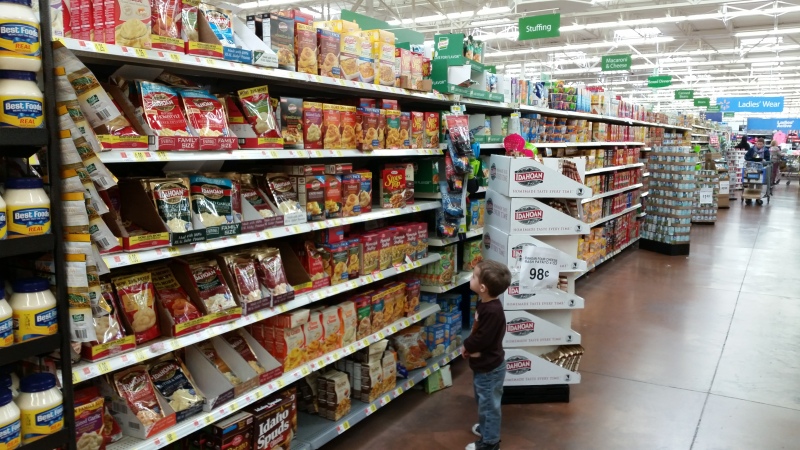 Thanksgiving Leftover Pot Pies
Serves 5 – Pre-heat oven to 350 degrees
4 cups assorted cooked veggies (cut into 1″ pieces, if needed)
1.5 cups shredded turkey (all the bits from of the bones work great)
1.5 cups gravy
2 cups mashed potatoes
leftover cranberry sauce (optional)
2 cups Stove Top Stuffing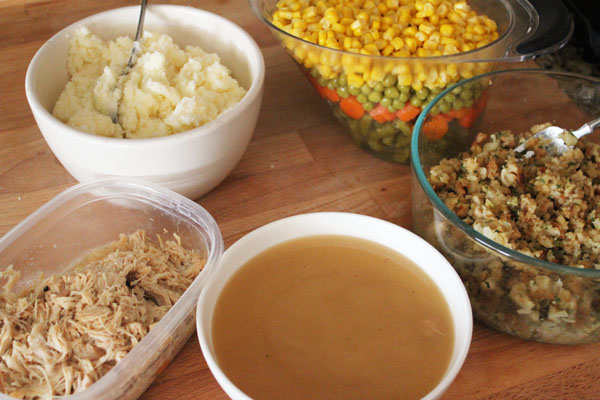 1. Mix the veggies, turkey and gravy.
2. Divide into individual containers. Fill each no more than half way. Depending on the size, you can fill 4-6 containers.
3. Spread on a layer of mashed potatoes.
4. If you're a cranberry fan, add a layer of cranberry sauce.
5. Sprinkle with a generous amount of Stove Top Stuffing.
6. Bake at 350 degrees for 30 minutes, or until heated through.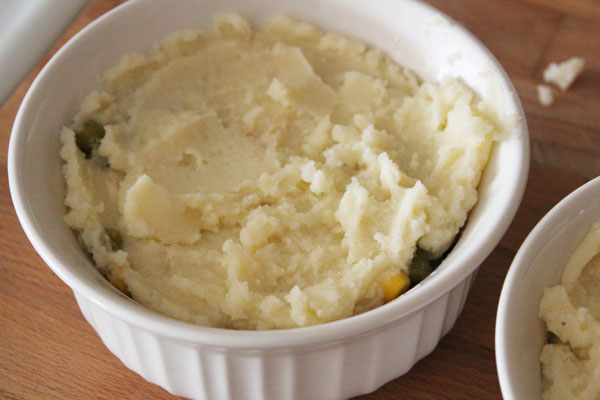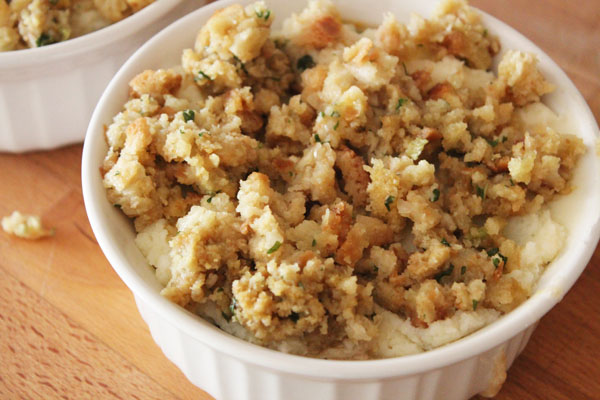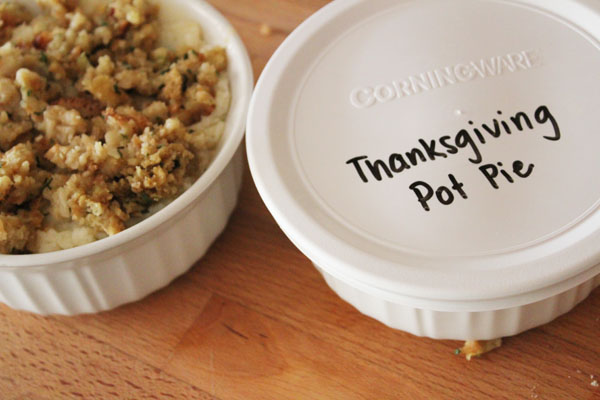 You can freeze these individual servings to eat later, or to serve after a busy day of decorating, shopping, and gift wrapping. Always nice to have those "emergency" meals in the freezer for busy days! These emergency meals are not just life savers, but they're money-savers as well. Tossing a pre-made leftovers pot pie into the oven takes no time at all – and doesn't cost any more money! Great when I've got lots of Christmas shopping to do…
If you need more inspiration, check out the Cooking Up Good website. It has recipes, sweepstakes, loyalty programs, coupons and more! What's not to love? If you're looking for a new dinner idea or a chance to win some awesome prizes, be sure to check it out!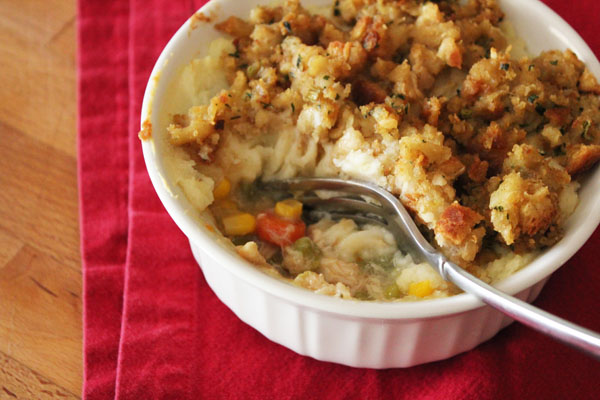 #TasteTheSeason #CollectiveBias