A couple years ago, I shared the Cricut Maker Block of the Week – 9 quilt blocks that you can make with your Cricut Maker, along with a blog and video series that show you how to make each block, how to connect them with sashing, how to add a border, how to quilt it, and how to bind it. All of this plus the files for cutting all the pieces was (and still is) 100% free! Let me show you the Cricut Quilt Sizes.
The series was incredibly popular! I was asked if I could share more quilt blocks. And so I did. I made 9 more quilt blocks that you can cut with the Cricut Maker, and I shared the cut files and made videos for all the blocks.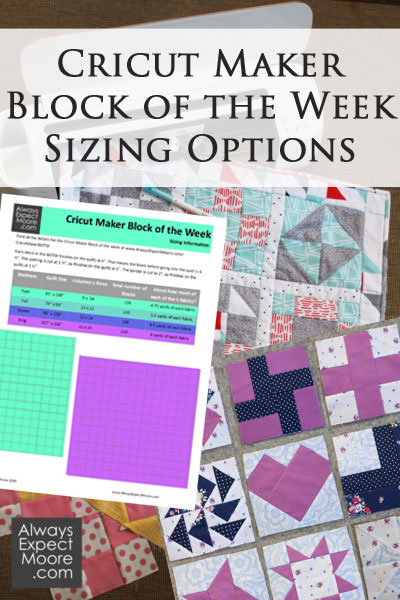 Two years later, one of the most common questions I get asked is about making a larger quilt from these blocks. The original quilt (and the sequel) are just sampler quilts – each finishes at just 23 1/2″ x 23 1/2″. Barely enough to keep your lap warm, and not large enough to snuggle under! I've tried to answer the question on increasing the size in the comments of the YouTube Videos a couple times, but it is a fairly long answer (with some math on my part), and so I decided it was best to explain it all in its own post that can be referred to easily.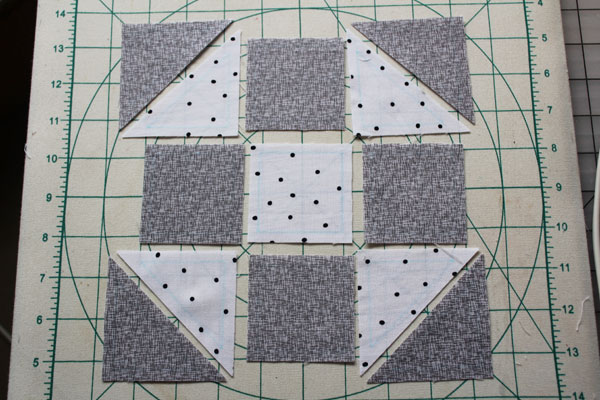 Understanding re-sizing a quilt
The first part to understand Cricut Quilt Sizes when wanting to make the blocks into a larger quilt is that you can't just make the blocks bigger. This is because each unit has a 1/4″ seam allowance. If you simply double each piece in size, they may not fit correctly. It would work okay (ish) for the 9-patch block. Each piece is 2 1/2″ x 2 1/2″. When you stitch them all together into a quilt, each piece becomes 2″ x 2″ (because a 1/4″ seam allowance on all four sides is used), and the finished block is 6″.
If you doubled these pieces, you'd expect a 6″ block to become a 12″ block, right? But you'd be wrong! If you doubled each unit to make them 5″ x 5″. In the quilt, each piece would be 4 1/2″ x 4 1/2″ – Making the block 13 1/2″ x 13 1/2″ in the finished quilt. Because the pieces are all equal-sized squares, they still fit together well. If you tried that other blocks, you'd find that the pieces won't fit together like puzzle pieces!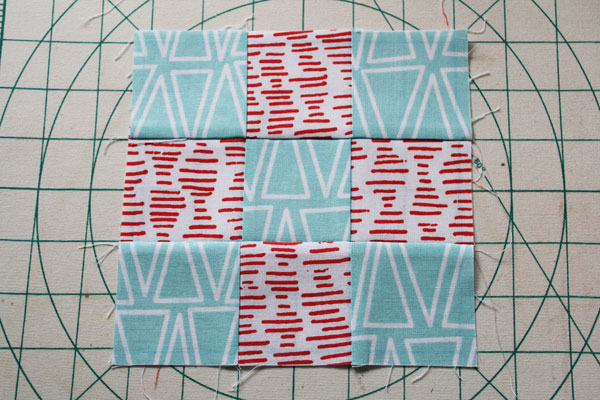 So, if we wanted to re-size all the blocks, we'd have to subtract all the seam allowances first. Then we could re-size the units. And then we'd need to add back the seam allowances. Maybe one day I'll take the time to do all that, but not at this point. It is a lot of work, and I have a long list of projects that I still want to make! Going back and adjusting old projects is not my favorite thing to do.
Cricut Quilt Sizes Cheat Sheets
I've come up with two "cheat sheets" for how to turn these blocks into larger quilts. These are done with some rough math. So, while the sizing is perfect, the fabric requirements are not exact. If you buy the fabric listed in the fabric requirements, you should have plenty of fabric. Each 9-block mini quilt was made with five 1/3 yard cuts of fabric. So I used that same math – each nine blocks needs 1/3 yard of each of the five fabrics. You might be able to be more judicious with your cutting, meaning you'll have some fabric leftover at the end. You can always use this for backing or binding fabric if you like, or add it to your fabric stash.
If you scroll all the way down, you'll find a link to download the PDF with both of these sizing documents.
This first cheat sheet shows you how many blocks you'll need to make if you want to make a twin, full, queen, or king sized quilt without any sashing or borders. If you don't cut the sashing and borders, you will have some extra fabric left over.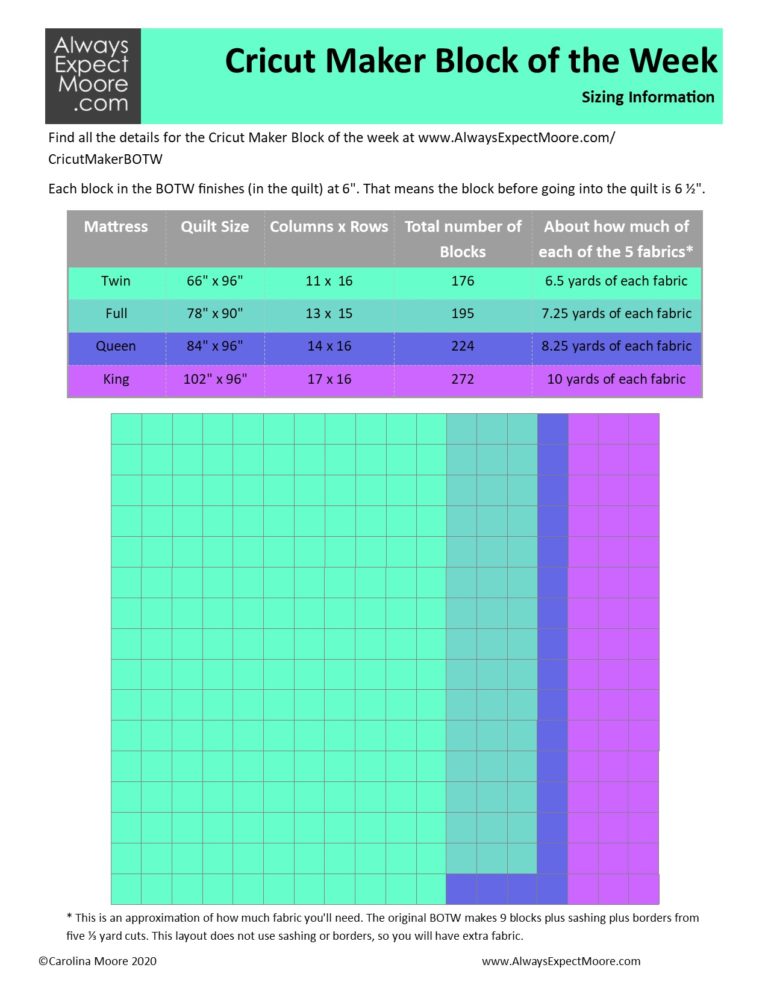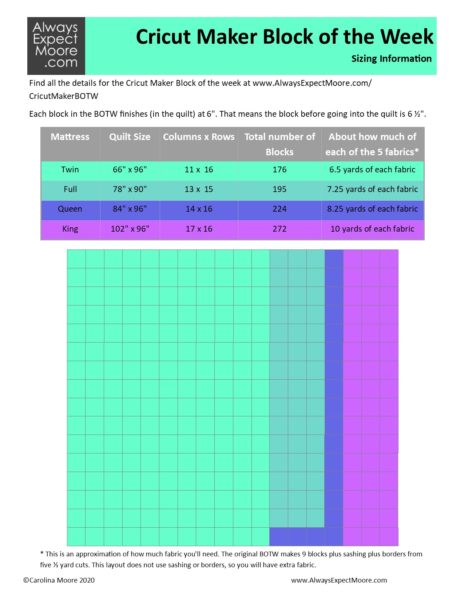 The second cheat sheet gives you the details for making blocks if you do want to add the sashing and a single border. You'd have to add all the horizontal sashing units between the blocks. Then piece together the vertical sashing units to stitch them between the rows. You'll also need a few extra long sashing pieces to make up the length needed for those rows.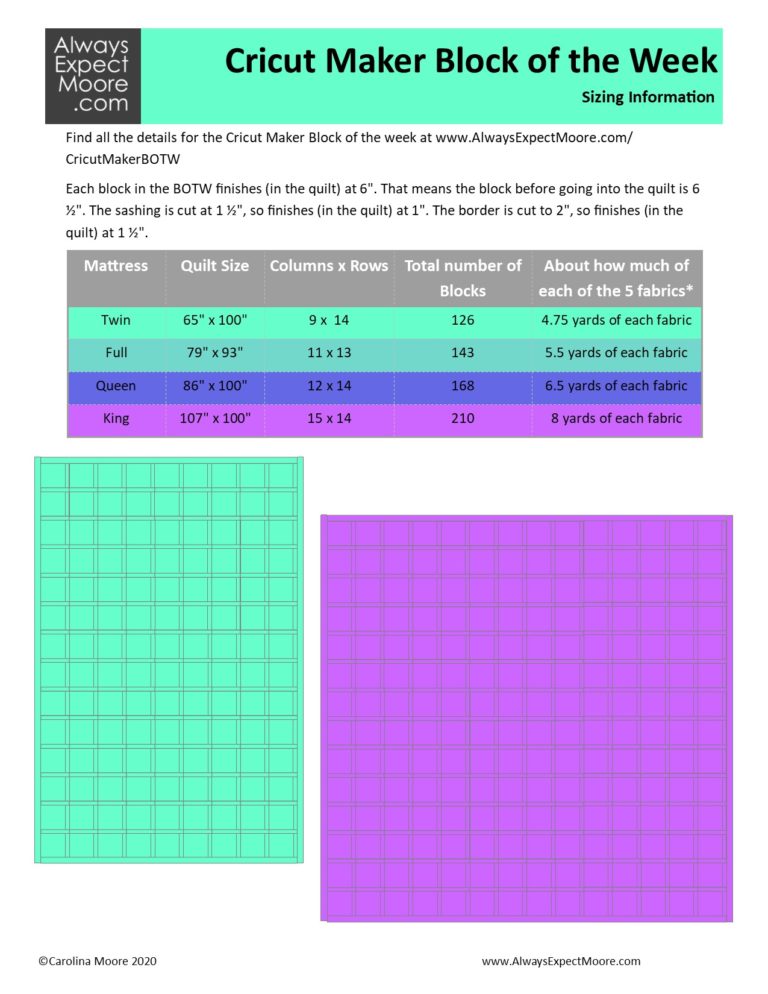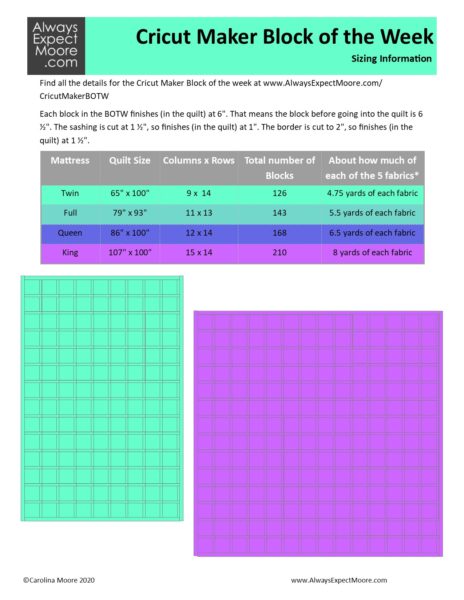 Hopefully that helps you understand the Cricut Quilt Sizes. If you'd like to try out one of these larger quilts using the blocks from The Cricut Maker Block of the Week or The Cricut Maker Block of the Week the Sequel. Then Click here to download the PDF cheat sheets that will help you with how many and how much fabric.