Earlier this week I had the chance to take a class from Sharon Schamber, an amazing free-motion quilter. When I saw Quiltique advertise the free-motion feathers class, I immediately knew I wanted to sign up. One of my goals last year was to get comfortable with free-motion quilting. I never did it. I hoped that this class would give me the push I needed. In whatever form that might be. Inspiration, knowledge, tools… I was lacking in all these departments.
When I signed up for her class, I had no idea who Sharon was. Really. I do know that Quiltique always brings in amazing teachers, and I have never met a single guest teacher in their classroom who didn't live up to the hype (and then some)! She is an Award Winning Quilter, nationally (probably Internationally) recognized for her work.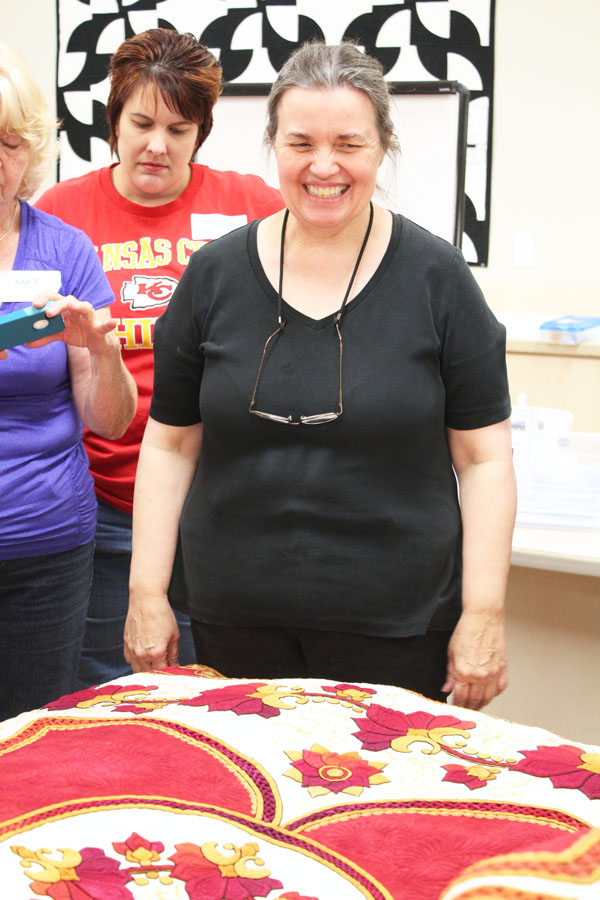 It was an all-day class, and very little of it was actually spent behind the sewing machine. The first half was a lot of lecture. Sharon has a unique teaching style that I won't spoil for you by trying to explain it. But I learned more in class than quilting (for example, apparently I have a "biker chick" aura… for those of you who have met me in person, feel free to debate or agree). We talked a lot about the role of quilting, the proportion of quilting, and how to make decisions about quilting a quilt. I could listen to her lecture for another day and still feel like I only learned a little of what she had to offer.
She didn't share her quilts until the very, very end of class… and I'm glad. Had I seen all this beautiful quilting beforehand, I might not have been able to focus on the class!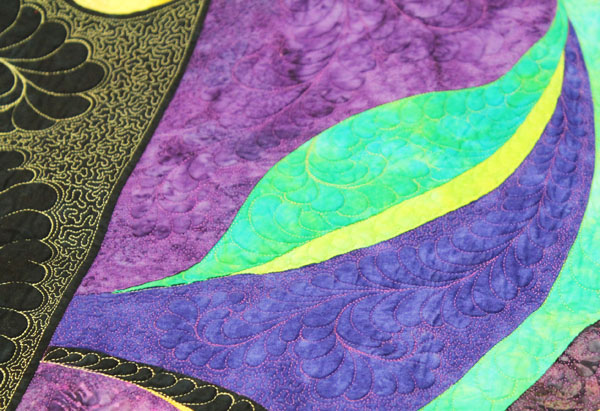 I know it is hard to tell scale in these photos, but just check out all the beautiful detail in this quilting!
The gold thread in this next photo is bobbin work. A whole different technique… but check out the fill in the white space behind the bobbin work. Ah-maze-ing.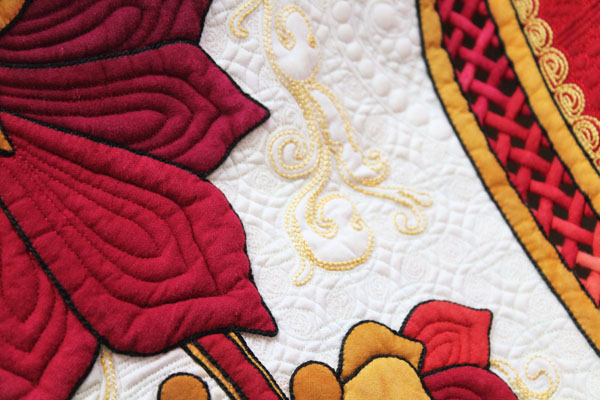 I snapped a photo of the back of one of the quilts as it was being folded up. You can see fingers in the top right of the photo, which gives you an idea of the scale here. Some of this quilting is seriously tiny!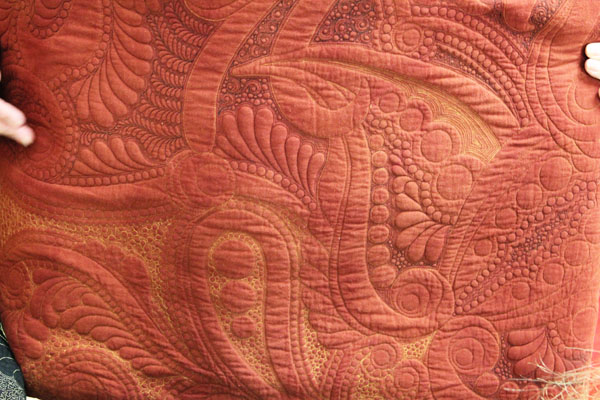 I was fascinated by this little study. Each of these 9 squares is just 2.5″ across! How many stitches can you fit in a 2.5″ square?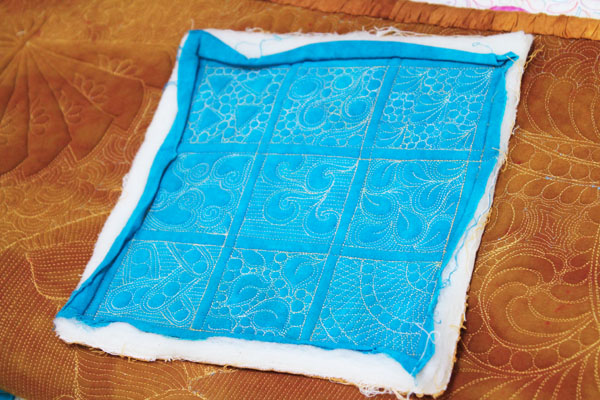 This gives you a better picture of how small this really is.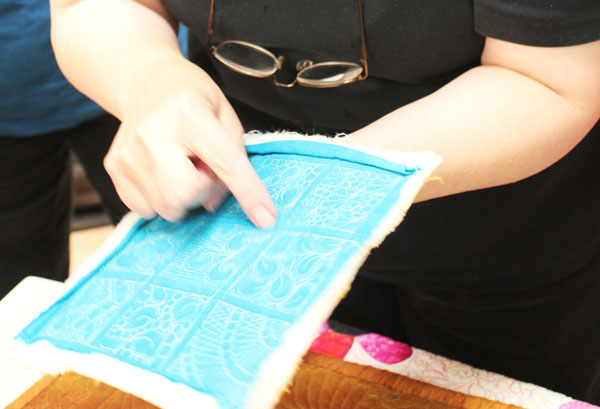 This next quilt is all made from hand-dyed cotton. All the texture the quilting adds makes it look like velvet!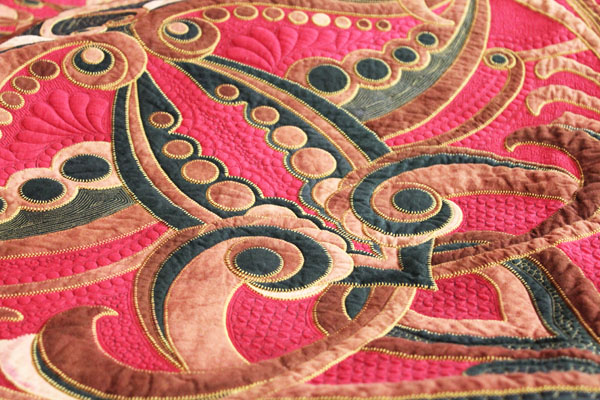 The different colored threads here help the quilting really stand out on this quilt.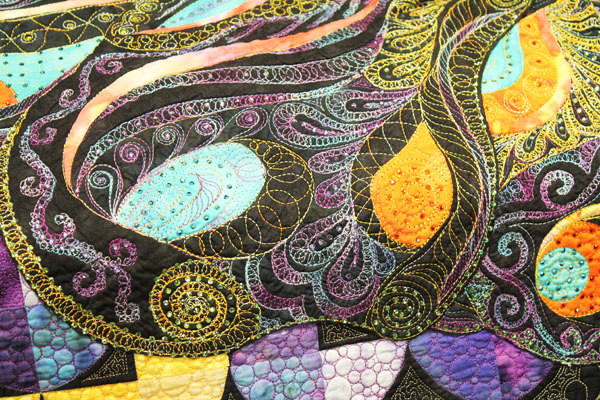 This is a shot as this quilt was being opened. There are 99 different stipples on this quilt. A stipple is small quilting usually done on sections of the quilt that are in the background.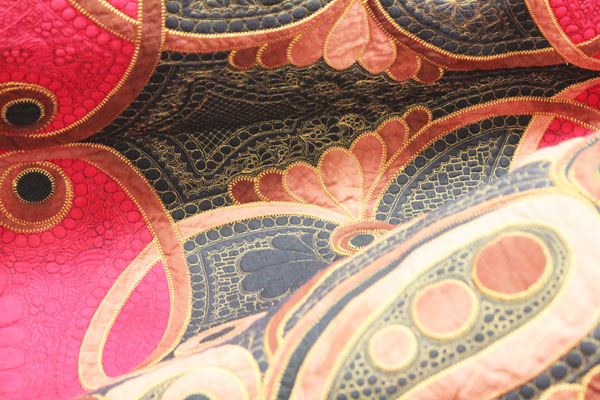 Here is an amazing fill – that wavy-line quilting with the cross-lines between? Wow.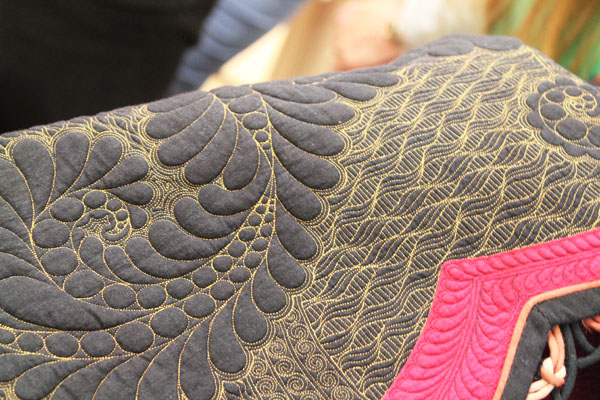 And this is probably my favorite shot. These little toadstools live right on the edge of the quilt. Like a little secret surprise. I wonder how many surprises live in the quilting on this quilt?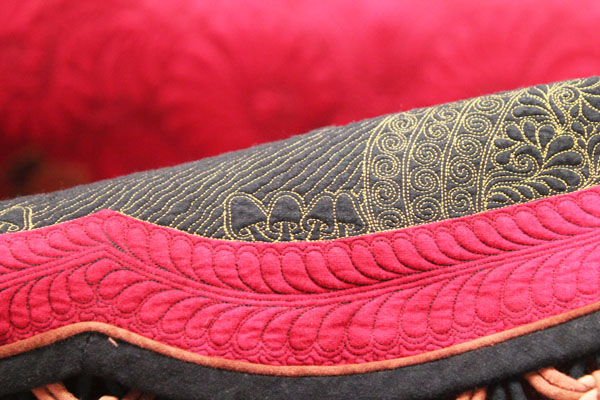 One last shot of her quilting… this beautiful feather!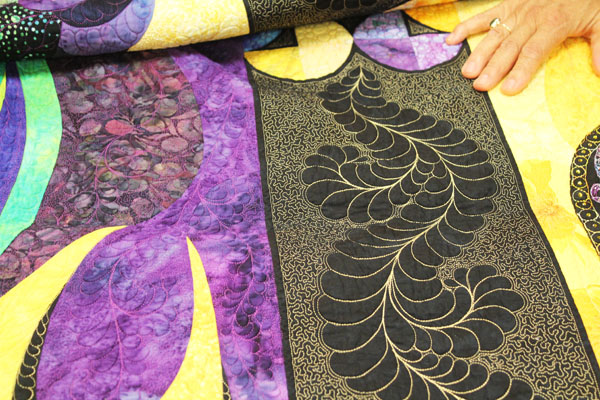 As a beginner, I'm not anywhere near this skilled. Her quilts are something to aspire to. But, I did take the first steps! I had a chance to try three feathers in class… and here is the third one!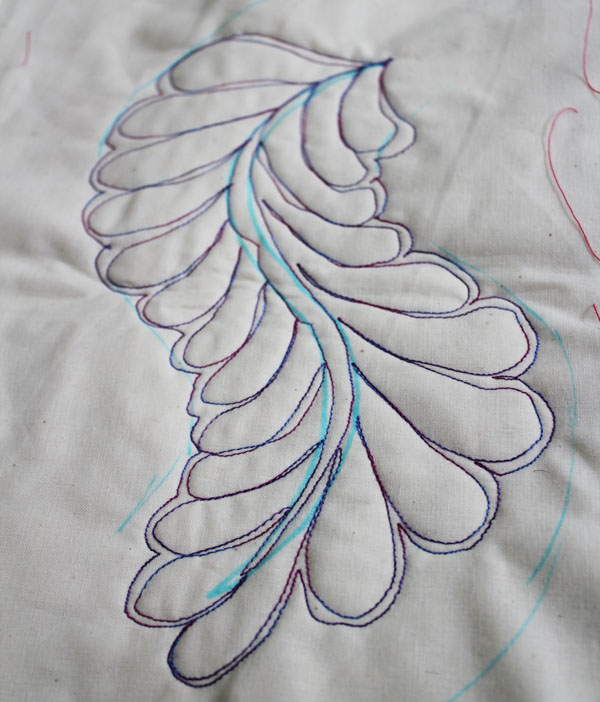 Yeah, I'm no Sharon Schamber… but for my third attempt at a free-motion feather, I have to say I'm pretty proud of myself! I will have to keep working on it, practicing the shape and getting better control of my stitching speed… but I now have the tools, knowledge, and definitely the inspiration to make it happen!