I'm so excited to announce the "Who Wore it Better" quilt as the latest in the Ruler of the Month Series! If you're new here, each month I make a quilt using a new ruler and teach you how to use that ruler in a video! These quilts are perfect for trying something new and adding a new ruler to your collection! This month's ruler is the Creative Grids 4, 5, 6″ Pineapple Trim Tool.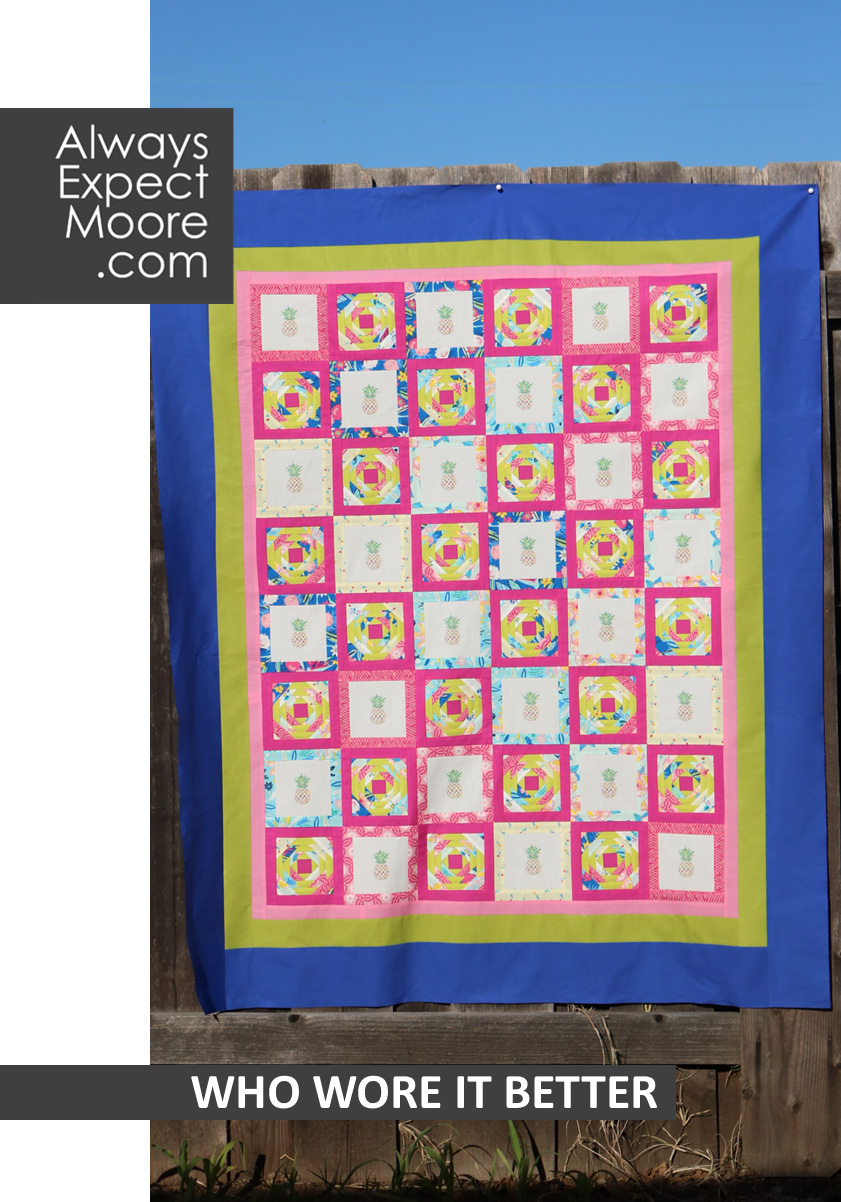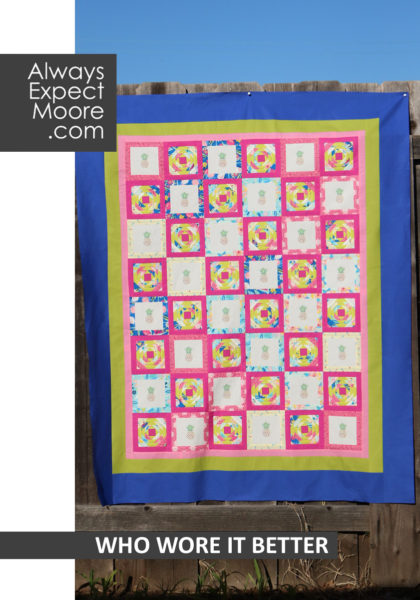 This post contains affiliate links. Making purchases through these links helps support this site.
A big reason I'm so excited to share this pattern with you is that it means the quilt is now DONE!! And this quilt was not my favorite to make. Any of my friends can tell you how close I was to naming this quilt "The Stupid Pineapple Quilt." Because in the process of making this quilt I discovered that I really, really, really hate making pineapple blocks. They are like a log cabin block that needs constant trimming, and never ends. So, quilter beware – the pineapple block is not for the feint of heart!
However, the good news is that this pineapple quilt comes together faster than an all-pineapple quilt. It only requires half as many pineapples to make because we're alternating the pieced pineapples with fussy-cut fabrics. I went with pineapples from Katie Skoog's latest line for Art Gallery Fabrics – Hello Sunshine. This fabric is so bright and sunny and perfect!!
Also, all the pineapples (both pieced and fussy cut) are framed. Which also makes the quilt come together faster. I really did all I could to help us non-pineapple-lovers make a pineapple quilt.
The good news is that now that it is complete, I can move on to my next quilt! I've learned that my favorite quilt is always the next one I'm planning, and my least favorite quilt is always the one I'm working on right now! HA!
Here is a quick video that shows you how the pineapple quilt comes together:
I encourage you to purchase your ruler and supplies at your local quilt shop. However, if you need to purchase online, here are affiliate links which give me a small commission when you make purchases by clicking these links:
On Amazon: https://amzn.to/2YeX9Jb
At Fat Quarter Shop: https://shrsl.com/29307
Head over to my pattern shop to purchase the Who Wore it Better Quilt Pattern!